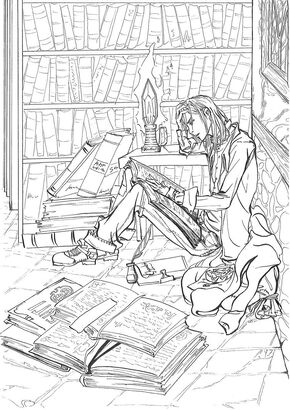 A Scriv is a student who works under Master Lorren, specifically in The University's Archives.
Description
Edit
In general there are two types of scrivs.
Archival scrivs
Edit
These scrivs work primarily in the archives. They bring books to people in the tomes, catalog books and spot check reading nooks in the Archives. They also work the front desk to check out sympathy lamps and ensure order. These scrivs generally are quiet and dedicated to books.
Procurement Scrivs
Edit
These scrivs include those who search Temerant to procure books for the Archives. These scrivs are worlds different from the Archival scrivs and must be physically fit enough to survive constant struggle.
In The Chronicle
Edit
Many of Kvothe's friends are scrivs who work under Master Lorren's tutelage. Scrivs keep track of the location of books throughout the Archives, they also work to organize the books as best as possible and repair or remove books that might otherwise cause decay.  Scrivs are also responsible for reporting any person found breaking the rules within the Archives and making sure they remain fairly clean.  Some scrivs ultimately go on to work for Master Lorren outside of the University, hunting down and retrieving rare or yet unacquired pieces of literature.
Known Scrivs
Edit
References
Edit
Ad blocker interference detected!
Wikia is a free-to-use site that makes money from advertising. We have a modified experience for viewers using ad blockers

Wikia is not accessible if you've made further modifications. Remove the custom ad blocker rule(s) and the page will load as expected.